Description
★. Multifunctional wall-mounted folding table: Shrink freely, change freely, and expand as a table, which can be used as your dining table, desk, computer table, etc., the size is L122.5cm * W65cm * H75.5cm; folded to the wall is a shelf, the size is L65cm * W30cm * H112cm.

★. Space-saving wall-mounted folding table: Can provide you with extra work or dining space, wall-mounted folding table for small spaces, can be installed in your kitchen, living room, cafe, study, bedroom, office and any other scene.

★ .Hydraulic rod design: The high-quality air pressure rod is selected, and the bearing capacity is up to 25kg. The recovery force is significantly slower and smoother.

★. Adjustable table legs: There are foot pads under the table feet, which can be used to adjust the installation height slightly when the floor is uneven, and the adjustment distance is 1 cm.

★ .Environment-friendly solid wood particle board: Selected solid wood, clear and delicate wood grain, rich in gloss. Hard wood, strong, no odor, strong and durable, thickness up to about 18mm, environmentally friendly paint-free board, no deformation, waterproof, anti-scald, anti-scratch, easy to clean.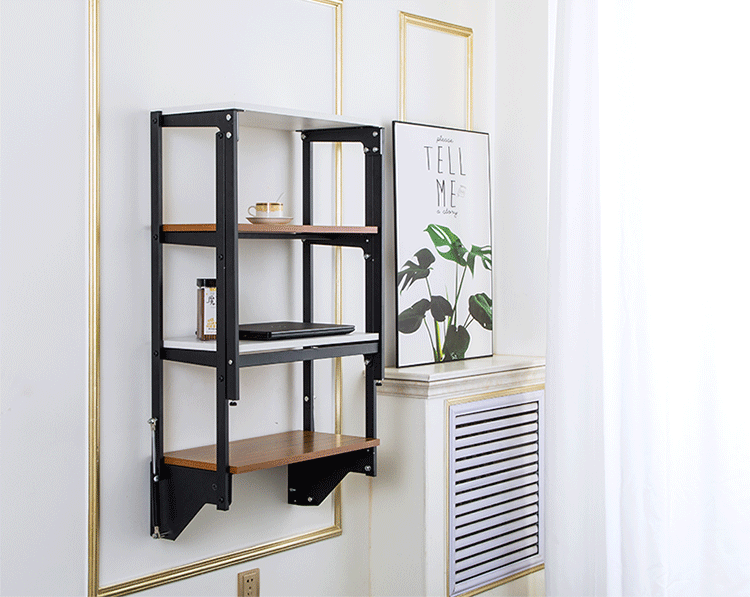 Related products